What is Google AdSense? How to Make Money with It
August 16, 2021
2021-08-16 11:04
What is Google AdSense? How to Make Money with It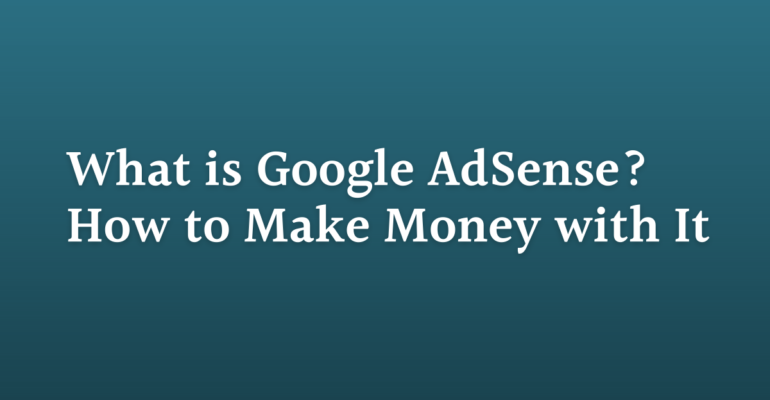 What is Google AdSense? How to Make Money with It
There are many ways you can monetize your website traffic. Most of them involve advertising third-party products and services to your site visitors. Google AdSense is the most well-known advertising program that can help you make money.
Google launched this advertising program in 2003. It is the most widely used advertising program on the Internet. This program offers web admins and site owners a great opportunity to monetize their traffic. Every year, Google pays more than $10 billion to its publisher partners. The following article will answer your questions about AdSense and give you some tips.
Google AdSense: The Benefits
• There are a lot of advertisers and publishers. As of today, over 10 million websites are using it.
• Both publishers and advertisers will enjoy high levels of security, safety, and transparency. Another great feature of AdSense is this. Google acts as an intermediary and ensures that the process is transparent and easy for all. You can track all the relevant metrics within your Google Analytics account.
• There are many ad formats. Advertisers can use AdSense to display text, images, HTML ads, video ads, and many other structures in various sizes. You can test different ad types to determine which ones generate the highest revenue as a publisher.
What is AdSense?
• It's very easy to follow. The process is simple: create an AdSense account and insert some code to your website pages. According to its proprietary algorithms, Google will show targeted ads on your site that are relevant to your website's content or users' past searches.
• These ads will be clicked by your website visitors. The best part is that you will get paid. Google AdSense is based on revenue-sharing and cost-per-click. Your main goal will be to get as many clicks as possible for those ads.
• Tip: Don't try to trick Google or artificially increase clicks. Encourage your website visitors not to click on ads. And, of course, don't click on your ads in any circumstance. Google has a complex and accurate system to prevent click fraud. It can suspend your account if it detects suspicious activity on your site or has doubts about the quality and quantity of your clicks and traffic.
What Can You Make With AdSense?
• Google charges advertisers per ad click. Advertisers pay Google 68% per click (or 51% if AdSense is used for search).
• Your niche's competition and CPC will influence the commission you receive. The commission per click ranges from $0.20 to $15 in practice. Publishers typically receive less than $3 per click for most niches. However, some places can be extremely profitable.
• There are two methods to find the most lucrative topics.
• 1. Estimate an average cost per click in the niche with the CPC Map tool:
• Three of the most lucrative niches in the US include Marketing & Advertising, Online Education, and Insurance. These numbers are extremely helpful if you're starting a blog or choosing topics to cover.
• 2. Check the CPC of a particular keyword in the Keyword Magic tool: This tool is powered by the biggest keyword database in the world (over 14.6 billion keywords as of August 2019). It is easy to enter a seed keyword (AdSense), and it will show you tons of related terms with CPC and search volume.
Traffic is the King
• Finally, and most importantly, your earnings also depend on the amount of targeted traffic to your website. It doesn't matter if your niche is the most popular or choose the best places for your ads. However, it makes no sense unless people visit your blog or website. Remember that only a small percentage of your visitors will click on the ads. Although there aren't official statistics from Google, webmasters usually report that between 1% and 2% is a decent CTR. The clicks will likely bring in less than $1 per click. You can now calculate how much traffic is needed to make the desired amount. You will need large amounts of traffic to make AdSense money. This will require lots of effort and high-quality content.
• It is always a good idea to create a website about a topic that you are knowledgeable about. You will find it easier to create quality content, and you will enjoy the process. A 10-page website is not enough to earn you $1,000 per month. Before you begin working with AdSense, it is a good idea to have at least 20-30 pages.
Summary
• Google AdSense can be a great way to make a lot of money, but it's not an easy program that will get you rich quickly. These common-sense rules will help you build a foundation for stable and high-quality earnings.
o You love the topic and are knowledgeable about it.
o You should produce unique, relevant content and do it regularly to ensure that Google is aware of your website's constant updating with new information.
o Don't try to cheat Google by clicking on "artificial" links.
o Research is key to identifying the most lucrative niches in terms of CPC and search demand. These insights will guide you in creating your content plan.
• This will allow you to generate a lot more traffic and then monetize it using AdSense.