Mobile Internet in India to touch 500 million users by 2017
October 28, 2015
2015-10-28 7:58
Mobile Internet in India to touch 500 million users by 2017
Mobile Internet in India to touch 500 million users by 2017
The number of mobile Internet users in India is projected to hit 236 million mobile Internet users by 2016, says a new IAMAI-KPMG report. It further projects that mobile internet user-base will reach 314 million by 2017. This is no surprise, considering the recent MAIT report that said, smartphone sales are in a growth mode, rising 33% during fiscal year 2014-2015.
This impressive growth would drive India to become one of the leading Internet markets in the world with more than 50% of Internet user base being mobile-only Internet users. With mobile internet user base increasing significantly, the government's Digital India Initiative leads the way, collaboration among mobile Internet ecosystem stakeholders and innovative content and service offerings from mobile-based services players.
Meaningful and compelling content can be an important driver for enabling adoption of mobile Internet. Traditional services like voice, SMS are gradually being replaced by mobile data services," said the report. "Indian mobile content usage is dominated by email, social networking, chat, games and news. While these categories gained popularity because they fulfil multiple needs of consumers, the positive social and economic impact of the Internet is probably manifold," said the report.
Compared to developed and developing economies that have up to 90% penetration, India scores a low Internet penetration at 19%. Though Internet penetration in the country is still a big challenge, India registers the third-largest Internet user base in the world, with more than 300 million users, of which more than 50% are mobile-only Internet users.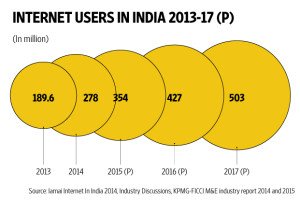 With the telecom operators significantly reducing the 3G tariff, now more and more users are migrating from 2G to 3G. India will have a 3G subscriber base of over 284 million by the end of year 2017. Urban users will migrate to 3G and 4G services while 2G will dominate rural India.
Dr. Subho Ray – President IAMAI reiterated that "It will be non – metros and rural India that will be driving internet growth in India. And this is where mobile internet will be playing a pivotal role."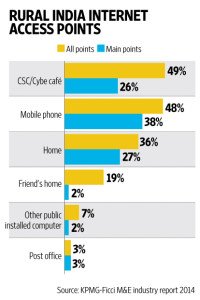 India has seen a surge in mobile internet users as the players have caught the pulse of Indian mobile users by catering to indigenous needs – increased internet enabled devices, super cheap handsets combined with smart and fancy features and data plans getting cheaper. Indian firms are also muscling into the mobile phone market which is also abuzz with innovative offerings. Mobile phone now serves as the main access point for nearly 38% of the active internet users.
National Institute of Digital Marketing
Branches:-
BTM:
| | |
| --- | --- |
| Address: | No. 23, BHCS Layout, 1st Main, Bannerghatta Road, BTM 2nd stage, Bangalore 560076 |
| Email: | info@nidmdigitalmarketing.com , nidmindia@gmail.com |
| Phone no: | +91 7760712699, +91 9591595919 |
Marathahalli:
| | |
| --- | --- |
| Address: |  2nd Floor, T.Nathan, 104, Ananada Nagar, Marathahalli. Opp Kalamandir |
| Email: | info@nidmdigitalmarketing.com , nidmindia@gmail.com |
| Phone no: | +91 7760712699, +91 9591595919 |
Mobile Internet in India to touch 500 million users by 2017